Structure
The aim of Siegelklarheit is to strengthen sustainable action by helping consumers to better understand environmental and social labels. In this way, we want to contribute to the market penetration of ambitious labels and the international implementation of high environmental and social objectives. By comparing the labels, the standard-setting organisations are given an incentive to constantly work on improving their systems. This is a development that ultimately benefits us as a society as a whole.
As an initiative of the German Government, there are a number of actors who support and actively shape Siegelklarheit. The German Federal Ministry for Economic Cooperation and Development (BMZ) and the Deutsche Gesellschaft für Internationale Zusammenarbeit (GIZ) are particularly important here. 
How exactly do they work together? Siegelklarheit itself is a BMZ initiative. It was initiated and financed by the BMZ. GIZ was commissioned to implement it, provides the secretariat and is responsible for the day-to-day work.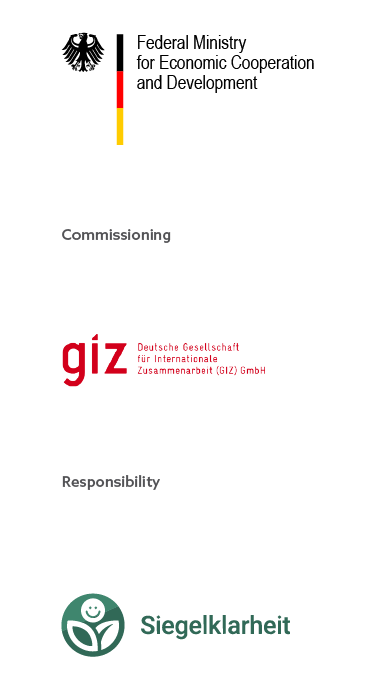 © GIZ
THE STEERING COMMITTEE
© GIZ
Political context
The German Government has committed itself to Siegelklarheit and its expansion in the German National Sustainable Development Strategy and the National Program for Sustainable Consumption (German only; "Nationales Programm für nachhaltigen Konsum)". Our portal is thus an important tool for promoting sustainable private consumption and a reference in Germany's political sustainability agenda. The starting point for this is are the Sustainable Development Goals (SDGs) agreed by the international community in 2015. One of these goals commits the German Government to promoting sustainable consumption. With its range of information, Siegelklarheit is a contribution to precisely this.
Because we are convinced of one thing: Purchasing decisions have an influence.